Over Time: An Interview with Ginny Zanger
by
Sheryl L. White
, curator, The Arnold Arboretum of Harvard University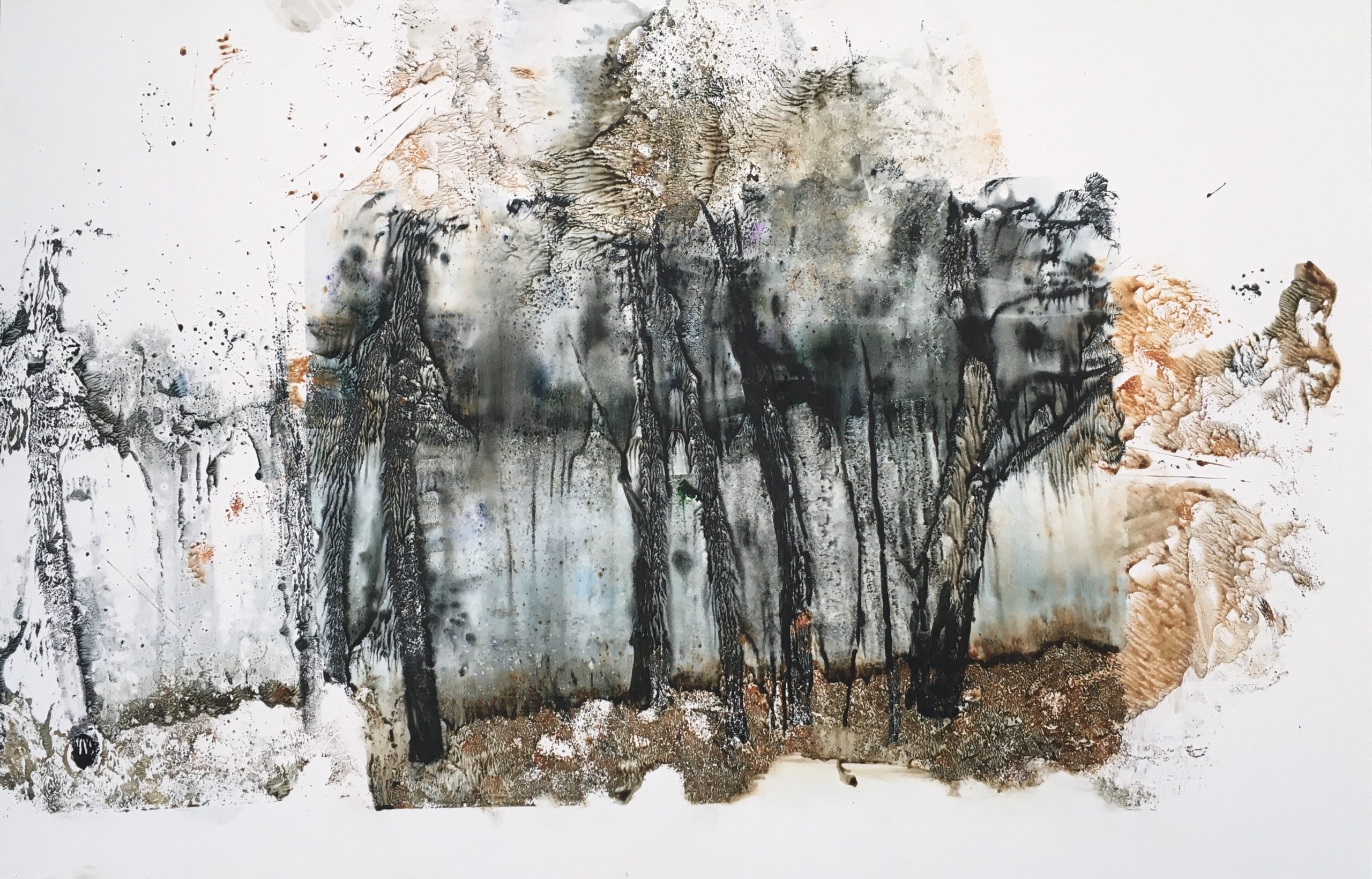 Trees of Ancient Memory, Monotype Painting, Watercolor on Yupo Paper, 26" x 40", Ginny Zanger
From the outset of her proposal for her Arboretum exhibition,
Over Time: Through Art, the Impact of Change in the Arboretum Landscape
, artist Ginny Zanger was interested in looking further into the impact that global warming has had on plants. This concern brings an additional and ongoing focus to her work. The exceptional charcoal drawing,
False Spring/Fatal Budburst
, based on a photograph provided by researchers, is a haunting image that brings us a reminder of the consequences brought on by climate change. It also shows the power of art to move and inform us. As in Zanger's other works, an impression of fleeting time, and a somewhat tenuous hold to earth, conveys the prospect of impermanence. Her observations culminate in art that reflects a moment, a moment that in another time could be lost.
Q: You have been active in climate change issues for years. How has your involvement in that activism and subsequent talks with Arboretum scientists informed the evolution of this exhibition?
When the idea of this show came up, you put me in touch with Arboretum scientists, including Cat Chamberlain, an Arboretum Fellow and PhD candidate. She generously shared her phenology research with me in addition to some photographs that I found compelling and heartbreaking.
Bringing together my activist life and my artist life is a work in progress and harder than I would have imagined. As an artist, I identify with the natural world and see my role as protector. My drawing,
False Spring/Fatal Budburst
, visually warns us that plants can be fooled by spring-like weather in February. One of my own favorite pieces in the show is
Trees of Ancient Memory
. This piece reflects what Cat shared with me about the shape of trees and how they may become an ancient memory. Instead of growing straight up, climate change seems to be causing more lateral branching, which will weaken the trees.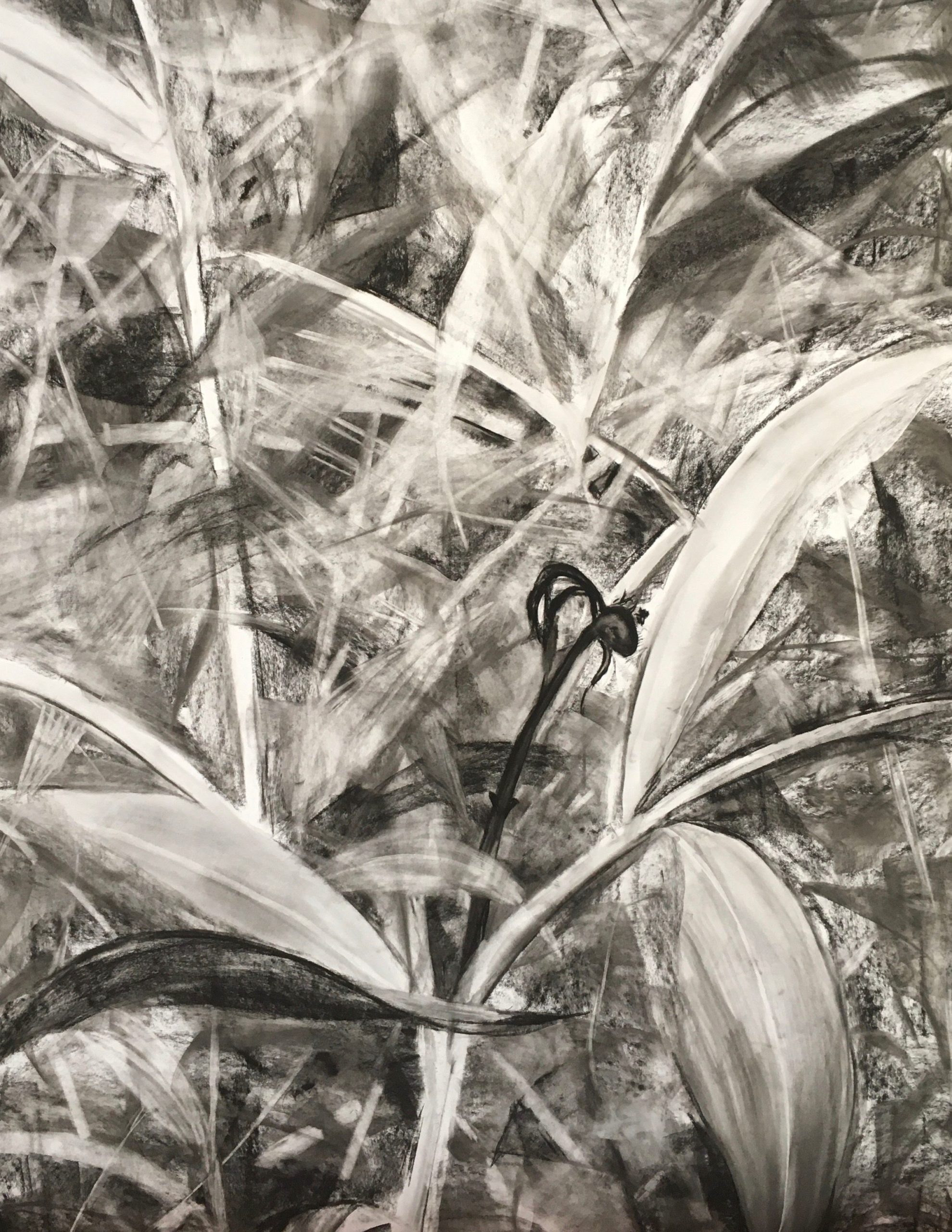 False Spring/Fatal Budburst, Charcoal on Rag Paper, 72″ x 50″, Ginny Zanger
Q: The essence of plant life in the Arboretum is obvious in each of your works. There is a quiet energy in the art of Over Time. You mentioned that this past year the Arboretum was even more of a needed "sanctuary" for you. Talk about that and how your long relationship with the Arboretum has evolved and influenced your art.
I moved across the river from Cambridge to Jamaica Plain fifty years ago and have been walking in the Arboretum regularly ever since. I raised my children here, snowshoe here, and I practice qi gong and tai chi on a weekly basis in the conifers. During this pandemic I owe a great debt to the Arboretum both in a personal sense and artistic sense.
I have maintained my sanity and my productivity during the pandemic because of the Arboretum's welcoming presence. During this past year, the landscape became studio, gym, and social venue. I began a practice of painting
en plein air
several times a week, sometimes every day. From there I've been able to grow a whole new body of work through my appreciation of the energy inherent in the individual trees.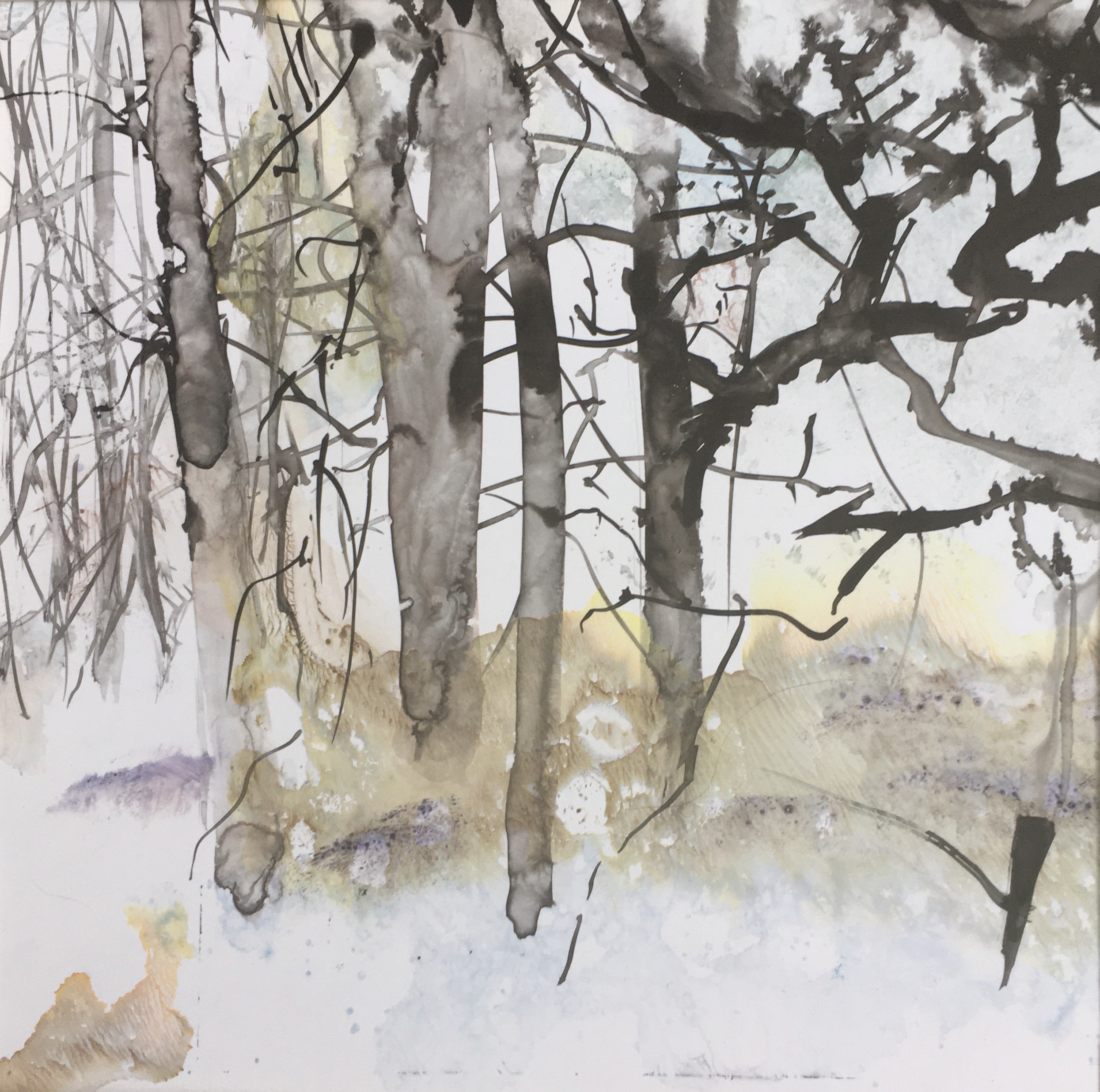 Hint of Drama, Monotype Painting, Watercolor on Yupo Paper, 12″ x 12″, Ginny Zanger
Q: The majority of your work in this exhibition is executed on Yupo paper with watercolors, a technique you call monotype painting. How does it work, what does it allow you to do?
This is part of a process that I have been developing and has been evolving over the years. Although I thought I had discovered it myself, it was invented in France in the nineteenth century, popularized by Surrealists in the 1920s, and is known as decalcomania.
Yupo is a plastic polypropylene that is purportedly degradable and has a slippery surface that doesn't absorb paint like typical cotton rag paper. With Yupo, you can remove paint and apply again. It follows the dynamics of water on plastic. I apply a second sheet, and then I peel it off. I have either two paintings or the beginnings of two paintings, and it does things to the images that I couldn't have dreamed of doing myself. It's that serendipity, that accident, that spontaneity that I find really fascinating.
Q. You have asked that 50% of the price from any art you sell be donated to the Arnold Arboretum's program in partnership with the Boston Public Schools. Why is this important?
The more I thought about this show, I wanted to be able to give back.
In my past, I was Vice President of Boston Children's Museum. We had a teacher exchange with schools in Costa Rica and the Boston Public Schools. I was able to see firsthand the impressive work that their government did to educate every fifth grader to the importance of the environment.
So, I feel like in Boston it's so important for our public-school kids to gain an appreciation and understanding of the environment firsthand. One of the things I learned from the Arboretum's research is that if we're expecting the next generation to protect the environment, they first have to understand and appreciate it. The Arboretum does such a terrific job at this, so I'd like to pay it forward a little.
Another really important feature of the BPS partnership is that hopefully more families of color will feel more comfortable at the Arboretum as a result of their children's experiences.
© 2021 The President and Fellows of Harvard College